«
Secretos de ps
El pensamiento instantáneo
»
El programa ftop es similar en ciertos aspectos a lsof: muestra los archivos abiertos. Pero ftop los exhibe en una interfaz similar a la de top y además, proporciona información acerca de la velocidad en la transferencia de datos y estimación del tiempo. (Hacer clic en la imagen para ver un ejemplo de su funcionamiento).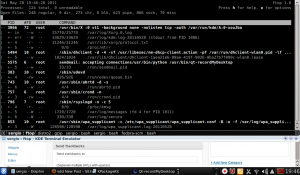 Con ftop se puede saber además, el tipo de archivo abierto y el modo en que se accede (lectura, escritura, etc.)
ftop fue enpaquetado por el autor de este sitio para Fedora
Posted on: Saturday, May 28, 2011 at 5:56 pm
Artículos Técnicos
.
You can follow any responses to this entry through the
RSS 2.0
feed.
You can
leave a response
, or
trackback
from your own site.
Leave a Reply