«
Neutralidad…mmmm
Secretos de ps
»
Salió Fedora 15 beta, tiene un núcleo 2.6.38.2-9,  mucho más actualizado que su predecesora (que usa una versión de la línea 2.6.35). Esto que implica por ejemplo que el módulo ath9k_htc soporta la placa wireless TP-Link WN821N v3, la cual es económica y soporta la norma 802.11n.
Interesante para ir probando varias cosas, por ejemplo GNOME Shell y Gnome 3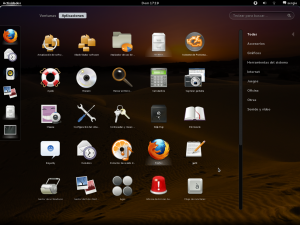 Y también se puede ver algo en este pequeño video:
¿Todavía usando Windows? Bueno…. existe VLC, programa libre para ver videos…
Tuve que soportar algún que otro cuelgue en esta versión beta de Fedora, lo cual no es tan alarmante teniendo en cuanto que no está pensada todavía para producción. ¿Quedó claro que es beta?
Posted on: Sunday, April 24, 2011 at 4:03 pm
Artículos Técnicos
.
You can follow any responses to this entry through the
RSS 2.0
feed.
You can
leave a response
, or
trackback
from your own site.
Leave a Reply